Time-Lapse Shows Home Built in a Day
---
Modular Home Construction
---
Energy Efficient Modular Home Construction
Our climate-controlled prefabricated construction process combines two established building practices: advanced home manufacturing and traditional on-site construction. Our building method produces very little waste, increases the percentage of materials that can be recycled, and ultimately produces a highly energy-efficient building.
Advanced Modular Home Construction
Assembled off-site in a specialized climate and quality controlled facility, EcoCraft Homes are built to meet and often exceed the highest industry building standards. Factory-built technology leads to more consistent quality construction, faster build times, and superior performance. In fact, our modular homes are up to 85% complete before ever reaching the home site. Once completed, each home is carefully transported, assembled, and finished on location by our team of building professionals. Our methods create a quieter construction site process, too, because the hammers and saws are typically left at the factory.
Speed of Construction
Our advanced modular building approach allows us to build virtually any home plan in as little as 90 days, compared to the six to 12 months required for conventional on-site construction. Unlike traditional home building, where construction takes place in an uncontrolled outdoor environment, the majority of construction on our green modular homes takes place in a specially designed facility by our highly skilled teams of building technicians. Our factory fabrication method allows us to work in parallel so that different teams can be working simultaneously on separate areas of the home such the roof and walls – all while the site is being prepared.

Our homes are typically set in one day. In the weeks that follow, our skilled craftsmen customize the home to meet your exact specifications. Building lavish outdoor living spaces, brick and stone exteriors, and custom finished basements are just some examples of how we utilize on-site construction to make your home uniquely yours.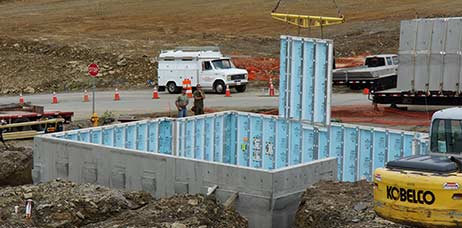 Super Insulated Precast Foundation Systems
We create foundations that are dry, comfortable, and spacious so that our basements don't feel like basements. As your EcoCraft home is being assembled off-site, our building professionals are installing your homes' custom foundation using prefabricated concrete panels. These panels are manufactured in a controlled factory environment using special moisture-resistant concrete and layered with continuous insulation for maximum energy performance and durability. This proven technology is a vast improvement over the popular and typical concrete block foundation system developed more than a hundred years ago. Our system is also time efficient; in less than eight hours after delivery to your site, your new modular home is structurally secured upon its energy-smart foundation system.
Modular Home Design Flexibility
Our green modular homes are anything but cookie cutter. Utilizing state-of-the-art design software, our homes are highly customizable and can be designed to meet virtually any buyer's specifications. Our team of designers can adapt almost any home plan to be constructed using our modular building approach.

We're inspired by innovation. If you can dream it, we can build it! We aim not simply to meet, but exceed your expectations. From the moment we meet, to well after you've moved into your new home, we're committed to excellence and customer support. Take a look at some of our customized homes and floor plans.
Sustainable Construction Methods
At EcoCraft Homes we take a holistic approach to higher quality, sustainable home building. Using advanced building techniques and intelligent architectural design, we maximize the potential for your home's energy utilization, helping you to achieve superior energy efficiency in your day-to-day living. Utilizing modular technology, our homes are not only constructed with green products and materials, but more than 95% of our minimal construction waste is recycled. Nearly zero waste, zero exceptions.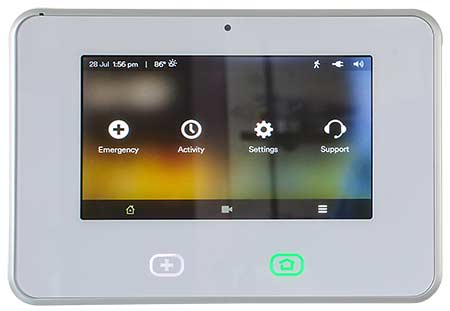 Superior Manufactured Home Quality
Our green modular homes are built in a climate controlled facility 90 miles from Pittsburgh, and are inspected at every stage of construction to guarantee the highest quality standards are met. Unlike with conventional building techniques, EcoCraft homes are never exposed to inclement weather which can cause quality deficiencies and construction delays. We can work year-round, in any weather. And because our buildings are transported via roadways from our modular facility, every EcoCraft home is also built to withstand stress levels equal to a medium-strength hurricane or earthquake. We stand behind all of our EcoCraft Homes with a 10-year structural manufacturer warranty. Further, each home is inspected by an independent third party agency to assure quality and performance during and after construction.